To The Race Organizers of the Toughman Triathlon,
Yesterday I had the chance to attend a Toughman Triathlon 70.3 event. It was a spectacular day. A friend was competing and I went to support him.
I couldn't help but notice (as I'm sure was the intention) the ladies from Maxim magazine who were located between the swim and T1 as well as at the finish line. First, I would like to understand your thinking in including these women in this event. If you would be willing to share that, I'd appreciate it.
I would also like to offer you a perspective on their presence from a spectator who is also a triathlete, a woman, a wife and a Mother to two daughters.
Yesterday, and many times since I've become involved in triathlon, I have seen amazing things. I have seen people finish races in times I didn't think were possible. I have seen people in bodies of all shapes and sizes finish races. I have seen people of all ages race. I have seen people with disabilities race.
My triathlon coach is an Ironman finisher. She is also a Mother of four young children. I like working with her because, like me, she is balancing a family, work and a sport. I suspect this is the case for many of the phenomenal female athletes I've met and watched through triathlon.
When I saw the Maxim ladies at the Toughman race, they looked out of place performing an official race function even though I wasn't familiar with Maxim magazine. There was no shortage of volunteers in lime green t-shirts, yet for some reason, the Maxim ladies, who were thin, attractive, well-endowed and dressed in short-shorts and black tank tops, were selected to help racers out of their wetsuits.
Never having read Maxim, I asked a couple of men what it was. These were their responses:
"It's a men's T and A magazine"
"It's like soft core porn"
"It's like the Victoria's Secret catalog with articles"
Here is a screenshot of the Maxim homepage today: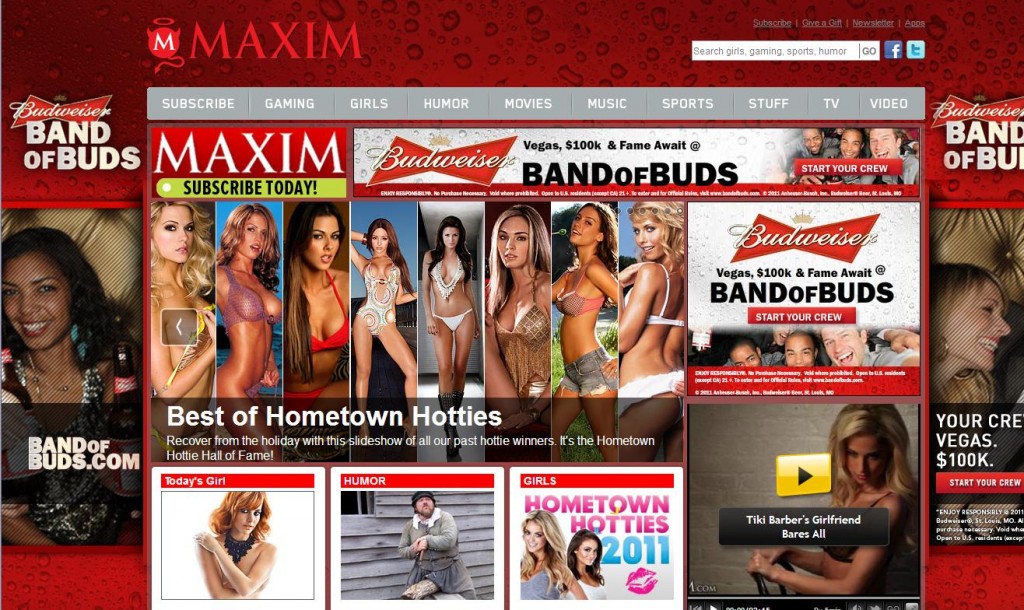 One of the things that hooked me on the sport of triathlon in my first race was the community. People are so nice. They are so welcoming. Nobody cared that I was new and didn't know what I was doing. People were encouraging. They were helpful. They were supportive.
When I did my second race, I finished last. Midway though the bike I knew I was in last place. The thought that crossed my mind which guaranteed that I wouldn't quit was this: I can't let my daughters see me quit.
When my friend told me about Toughman, he described the brand as being family oriented. In fact his own daughter competed in the kids race on Saturday.
I see nothing about the Maxim brand that embodies community, not quitting or family. It is about sexy women. It is not celebrating female athletes, or women who are competing and parenting, or competing and working. It is not even a celebration of the female body for all it can do. It is about the sexual value of the female body. I don't see where there was a place for that at a triathlon.
When you were planning the event and you selected Maxim ladies to assist with wetsuit removal, what were your expectations regarding the experience of your female athletes? What did you think all the wives of the male athletes who were there to support their husbands would think as they watched these women help their husbands disrobe?
My daughters have watched me set a goal and work hard to achieve it. They have watched me come in last place and smile about it rather than quit. They have heard me correct people who have complimented me on being skinny by telling them that I am strong. My friend's daughter completed her second triathlon at your event on Saturday. She is a beautiful young girl who can do anything she decides to do.
Maybe these girls will be triathletes, maybe not. Maybe they will be Mothers, maybe not. The one thing I hope they will not be is women who believe that what they have to offer is merely their sexual attractiveness. That is what the Maxim ladies were teaching at your race where there were so many other great lessons for these girls learn instead.
The presence of the Maxim ladies doesn't just belittle women and triathletes. It belittles your race. You put together an otherwise wonderful event which I am certain required months of intricate planning and effort. Do you really want the take-away to be an insult to women? I doubt it.
I welcome your explanation should you choose to offer it. Thank you for considering my perspective.
Sincerely,
Laura Orban
Subscribe to posts by email