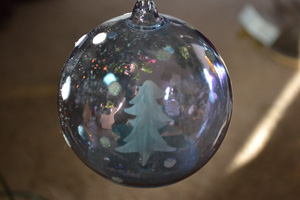 My family always made pizza and fugialuni on Christmas Eve. Fugialuni is something my Great-Grandmother made with her family. It's Sicilian, though I've never met another person who has heard of it (Italian or otherwise). It has been my family's tradition for years.
When my husband and I got married, we tried to blend our two Christmas Eve traditions. We invited both families to come to our house. First we served his family's traditional meal, then we made 6 pizzas and 6 fugialuni. The result was that there was too much food and way too many dirty dishes.
Realizing that this wasn't going to work, we switched things around a bit. Now we have pizza and fugialuni day on December 23rd. My family comes over and we spend the day cooking, eating and enjoying each other's company. It's much calmer and more enjoyable. But it was hard to say good-bye to the tradition the way we'd always known it.
Adapting
Things change. Relationships evolve. Children grow up and become adults who make their own choices. The pain comes not so much from the fact that things change, but from the fact that we cling so tightly to the way they used to be.
This is true for individuals and for organizations. We all have our way of doing things. We can call them habits, traditions or best practices. They become ingrained because they work. We try something and find success, so our inclination is to repeat it.
But when circumstances change around us, our traditions or best practices have to change as well. What worked at one time won't necessarily work forever. We can either lament the changing times and stick to the things we've always done, or we can adapt.
The degree to which adapting is painful depends largely on our attitude. If we're open to change and to the possibility that something new and better may happen, it can be exciting. If we insist that the way we've always done it is the only way, change will be difficult and unpleasant. We can easily miss out on the good right in front of us.
I loved making pizza and fugialuni on Christmas Eve. It was something special that my family had done for as long as I've been alive, and even before I was born. But if I'd rigidly stuck to it having to be done on Christmas Eve, the night would have been exhausting. And none of us would have enjoyed the food.
Instead I have another day, a special day with my family when we can take our time and enjoy each other's company. What's important hasn't been lost. The sense of tradition is still there, it just happens a little sooner than it used to.
The ability to grow and change with time is maybe the most critical thing we can develop to ensure our survival. Whatever your traditions are, or whatever they may become, I hope you enjoy them. I wish you peace and happiness for the holidays.
[Image credit: Mike Towse]
Enjoy this? Get new stuff by email.