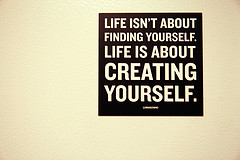 Why in the world would we need to talk about how to be yourself? Isn't being ourselves the one thing we all know how to do?
There's no doubt that part of what it takes to be successful in social media is a little bit of personality. People want to connect with you.
We also know that to be successful with social media (and internet marketing overall), businesses need to have a plan. We need goals, target audiences and key messages. Social media isn't a free-for-all.
We create social media strategies and policies. Those are good things. Then we say that part of our strategy is to be yourself. That's where I think it gets tricky.
Telling someone, "be yourself" can be a bit like telling someone not to think about a pink elephant. What image do you think they have when you tell them that? You know the answer (it's a pink elephant).
It's not easy to mandate being yourself.
So how do these things come together? How do you create and work from a plan but still infuse authentic personality?
Use Your Naturals
Some people are better suited to social media than others. Some people just like it and feel comfortable with it, which translates to status updates that feel natural and engaging. Let those people shine. Every person won't be suited to every role. The person who thinks Twitter is a silly invasion of privacy might not be your best representative no matter how much training you give them.
Practice Discretely
If you want to use social media for business, it's important to use your real name. People need to know who you are and what company you represent. For a new user, that can add a level of scrutiny (real or imagined) that makes it hard to practice. And practicing is the best way to get comfortable.
Create a learning account. Don't use your real name. Create an account that doesn't use your real name and just have some fun. Nobody is watching you so it's OK if you don't use a hashtag the right way, or if you @ reply when you meant to DM. Once you've gotten the hang of it, you can tweet under your real name with a little more comfort.
Have Real Friends
Sending updates out to a sea of strangers can add a level of pressure that you don't feel when you're talking to friends. But (to some degree) the casual comments you would make to a friend are the things that build relationships with strangers. Adding a few of your friends in real life, and then keeping those friends in mind when you post can make your updates more natural. This does not mean that you forget your social media policy or goals and chat away as if it were just you and your friends.
Read, Read, Read
Social media is not just publishing. It's reading. It's replying. Pay attention to what other people are saying. Think about what kinds of content you like to see and what you don't. If you like photos, use them. If you don't like when someone retweets every #followfriday they get, don't do that. This may not sound like you being yourself, but you're learning your own style by paying attention to what you like and dislike. Give more weight to what you experience and less to the posts about the 10 Things You Should Never Do On Twitter.
I also highly recommend one of my favorite posts of all time, written by Lisa Barone. It's about how to create the personality you'll use in social media, and how it's a mix of your true self and a super-version of you. Read it, as I won't do it justice.
Any thoughts to add?
[Image credit: ganesha.isis cc]
Enjoy this? Get new stuff by email.