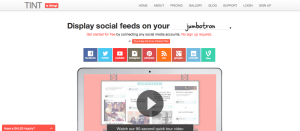 The Tint Social Media Aggregator plugin for WordPress is really handy. I have a client who was asking for exactly this type of functionality and I didn't think it existed in a plugin. Not only does it exist, but Tint makes it easy to use and displays nicely.
We generally think of our website as our "home base" and our social accounts as our "outposts". That means that we produce our own content, collect email addresses and link to social networks on our home base. And we go out to the outposts to interact with people where hopefully we can eventually drive them to our home base.
But what if your model is different? What if you are starting with a network, a set of email addresses or contacts? What if you're building your site and you want the content you share via your social networks to be available to the people who come to your site? What if you want your all your content (created and curated) to be available to users in both places (home base and outposts)?
Sharing your own content on social networks is easy. There are tons of plugins to do that. But getting what you share on say, LinkedIn to appear on your own blog is not as easy. Unless you use Tint.
Tint lets you create an account and then a tint. Within a tint, you can add your social media accounts. Currently you can add access to the following:
Facebook
Twitter
YouTube
LinkedIn
Instagram
Pinterest
Google+
Vine
RSS
You add access to your account, and then you add the code for your Tint to the page on your WordPress site. You can also add it as a sidebar widget. That's it.
Your posts on the social networks you've added begin to appear on your WordPress site. Tint's website tells us you can also use it on Facebook but I haven't tried that.
It's very easy to use. The only issue I had was trying to find the code to add to my page. Their documentation tells you that it's under Edit -> Embed -> Show me how -> WordPress. But it wasn't clear to me that the code actually gets generated there. I thought that was an example. I eventually figured it out.
Tint is a simple, attractive solution for including social feeds on a WordPress site. Two thumbs up.
Subscribe to posts by email